Follow or Share the Hobby Love!:
Perhaps you are used to my smiling face! Me too! But I will say, this was a fun set of sewing patterns to sew and to shoot photos for since it was so different.
I made essentially two versions of the same George and Ginger sewing patterns – The Malibu Dress and the Rave Top.
In all technicality, the white shirt is actually a top that didn't make it out of pattern testing. It's super similar to the black (Rave Top) shirt, the neckline is just a tad higher. Which is a simple thing to change anyway (you can see my blog post on that HERE).
If you haven't noticed, George and Ginger is one of my favorite sewing pattern companies. The designer, Kristi, is always coming up with new and unique ideas.
And this time, the new idea was the:
Goth and Grunge Collection
It's actually a collection of 6 sewing patterns in total including:
Maybe you recognize the names of the patterns? They are all based off grunge bands from the 1990s.
Now, I do have to admit that I was a bit young when these bands and styles were popular, but I was around wearing overalls and jumpers with shirts underneath. I just didn't have the full face of makeup to match!
Anyway, I think the concept of taking a look out of another decade and making it "new" is really neat. And how many pattern companies have you seen release full collections like this?!
Out of all the new patterns in the collection that I haven't sewn yet, I'm most attracted to the Zombie Jacket. I really want to make one after seeing all the tester photos. The jacket looks so professional with zippers and lining and all. I guess a trip to the fabric store is in order!
The Rave Top, as seen in the picture above, is actually an older pattern that has now been updated to include the new block (an updated bodice and sleeves) as well as expanded sizing (and a different and more comprehensive size chart).
Rave Top Neckline Options
This pattern has 3 different options:
The scoop neck that you see in my pictures,
A square neckline (great look, I need to make a few),
An angled v-neck.
The reason the Rave Top pattern was included is that it just went so well with this collection. Therefore, it was updated, and then meshed in with the pieces that just released.
Malibu Dress
I'm really loving the fit of the Malibu Dress. I made the floral version with French Terry from Knitpop (my favorite online fabric store). The Green version is a $2 remnant from Walmart.
Of course the French terry is admittedly nicer. It's softer, doesn't cling, and drapes around my legs like a soft cloud. But, I wanted a dress with a rich color too for a bit of drama!
The Malibu makes a great summer dress pattern too! I'm excited to wear mine by themselves without the shirt when it warms up. Here's a snapshot of the dress by itself (before I had hemmed it!):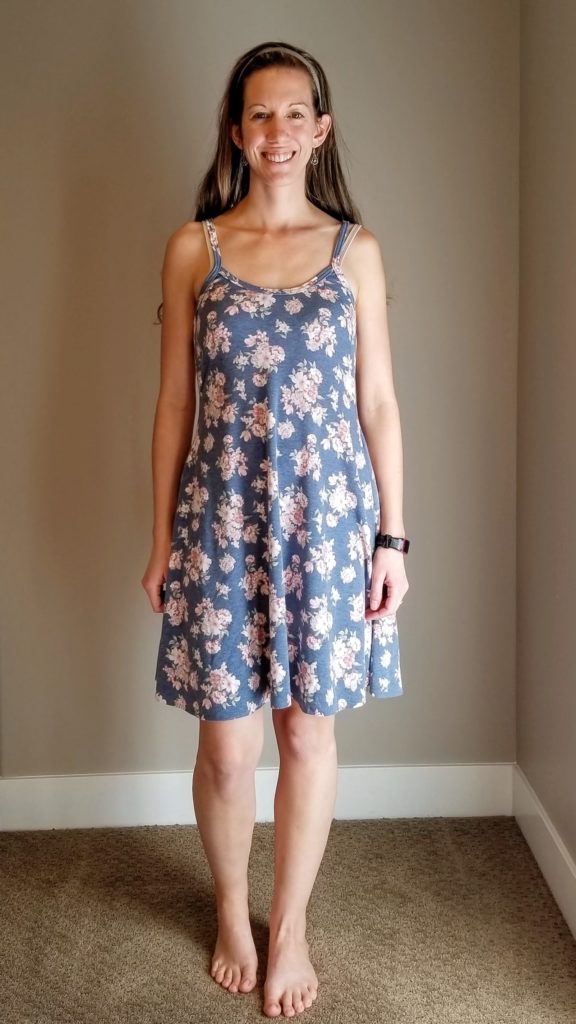 I just love summer dresses. And now I have two more!
Here's a few more fun shots from my grunge photo shoot:
Well, I'm sure you are tired of seeing photos of me. Go look at the tester photos now! You can see the full pattern collection on the George and Ginger website HERE.
Happy Sewing!
This post contains affiliate links.