Follow or Share the Hobby Love!: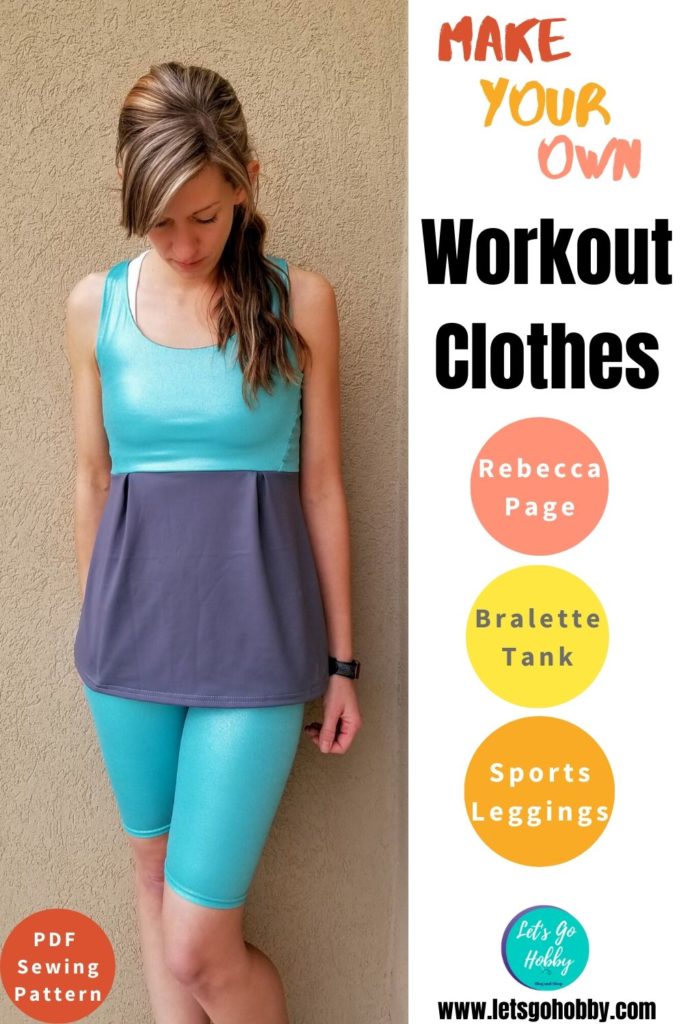 ---
To start with, this post is part of a Blog Tour! Which just means that 13 sewing bloggers are writing about Working Out With Rebecca Page Patterns this week.
I'm on the next to last day of the tour, so be sure to check out the other post links after you read about my makes! There's also free prizes involved if you click the link at the bottom!
---
You might have seen my recent post about a new leggings sewing pattern. That post and this post feature the same Rebecca Page Sport Shorts and Leggings sewing pattern, but…with different options!
And, I also sewed up the new Rebecca Page Bralette Tank pattern. I am now a proud member of the coordinating workout clothes club!
Topics Covered Below:
Workout Clothes – The Past
Long ago, in a galax…wait no, not that far away! Okay, about a decade ago, I was really into exercising and bought a good amount of workout gear including lots of athletic tanks, active wear shorts, and leggings. All RTW (ready-to-wear) of course. Sewing wasn't my hobby back then.
Well, a few years later I had twins and then another little one all in under 3 years. So, there hasn't been much time (or energy!) to exercise in about the last…5 years.
Since my pre-kids days, I've only made one article of clothing to workout in. It was a pair of leggings in shorts length (the P4P pegs, see my post on that HERE). To be honest, I didn't even make them to workout in. I was just pregnant, lol, and needed some comfortable clothes.
Workout Clothes – The Present
My children are 5, 5, and 3 now. Read: my excuses for not working out are dwindling. I am pretty busy, but I could certainly fit in a few more sweat session per week.
Exercise is so good for us. Not only does it burn calories, but it builds strength, stability, and stamina. Which is especially good if you are chasing kids, a job, or youth!
Thus, the need to sew up some super cute outfits so that I can copy Jillian Michaels on the basement TV. She's my fave!
The Leggings
I wrote a pretty detailed post about the Rebecca Page Sport Shorts and Leggings already. You can see that post HERE!
So, to add on to that post, but not bore you with repetitive information, I'll just talk about the options I made for this specific pair I sewed up.
I chose the longer shorts option this time as I already had the shorties. This length is modest, but still cute. And because the shorts hem sits below the widest part of the thighs, these babies stay put (more on that below!).
I skipped the sport shorts overlay as I just wanted to use this fun mermaid-esqe athletic fabric I found at Joann Fabric Store a few months back. Maybe you saw my Instagram post when I bought the fabric. (Did you read that? I still need to get some Strides sewn up!).
Do make sure you always use a fabric marked for exercising or that has wicking properties to make workout clothes. If you try using a fabric with a high percentage of cotton or regular polyester, you will not be happy with the results.
…always use a fabric marked for exercising or that has wicking properties to make workout clothes.
The waistband on these leggings is exposed elastic. I found some fun sparkly white elastic like THIS for my waistband. Which I think fits the whole mermaid-esqe look to the fabric.
Bralette Tank
First of all, what's a bralette tank? Well, the Rebecca Page Bralette Tank is a bralette or sports bra with the option to extend the top down into a tank.
There are two distinct tank options:
I sewed up the pleated version. There are two pleats both in front and in back. The bralette itself is lined (which looks really professional!) and features a racerback silhouette.
PRO TIP: When sewing the pleated top, pin the pleat above where you are sewing as per the instructions. But also, pin below where your stitch line will be. This will ensure that the pleat stays pinched together!
The bralette without the tank extension can be simply banded or you can add elastic at the bottom for extra staying power while working out.
PRO TIP: After you sew the main neckband to the lining neckband, clip your curves! If you use a serger, you can still clip through the first needle line, but not through the second!
After you clip and flip, you will see that the neckline is very smooth. Be sure to add the clear elastic as the instructions state. I used a 3 step zig-zag to attach the elastic. They use this in rtw clothes for bras, so it looks super professional.
Sewing Adjustments
I ended up doing a Small Bust Adjustment (SBA) for the tank portion as the instructions in the pattern stated that the bralette is drafted for a C cup (which I'm not). The PDF actually suggested doing an SBA for a smaller bust.
I found a great tutorial on the Collette Sew Alongs website HERE.
Rebecca Page also has bust adjustment tutorials for a few other patterns on their website for free if you need one for princess seams or with darts for example. HERE's the one for their Phoebe Party Dress.
You can see in the picture above, that there are lines that radiate from the side seam out toward the back. This is due to the SBA.
When you make this sewing adjustment, it causes the front side seam to be shorter than the back side seam. So you stretch the front to meet the back, thus the drag lines.
I actually don't think they look bad. Having a gathered look at a side seam is a good look! See the gathered waistband on my Rebecca Page Carolina Dress?
You can see my post on this dress HERE.
Squat Test
Have you heard of the squat test for leggings? You have to make sure they don't slip down or (eek) split open when you squat! So I tested these out just for you.
I even tried out some dead lifts, bicep curls, and overhead presses. They didn't budge!!
Then I tried out a little run and stretch.
And I'm happy to report to you that everything about the exercise clothes stayed put!
So, whether you need workout clothes for the gym, a tv workout, a run, to garden, or to just wear around the house, Rebecca Page has you covered!
Blog Tour Links
Remember, I'm only one stop of the blog tour! There are lots of talented sewists on the list below. Don't forget to enter to win a prize!
Be sure to check out all the bloggers Working Out with Rebecca Page:
Monday 24 –Sarcastic Sewist
Tuesday 25 –Sew Much Charm, Sequoia Lynn Sews, Modestly Dolled Up
Wednesday 26 –The Graham Crafter, La Casa Cactus
Thursday 27 –Sewing and the Trivium, Patchwitch
Friday 28 –Blooming Skies
Saturday 29 –Let's Go Hobby, Just Sew Something
Sunday 1 –D'coudre, Patchwork and Pastry
Plus, enter to win a prize! Daily drawings and one big winner at the end of the week!! Enter HERE <3
I hope you enjoyed this post and this stop of the Working Out with Rebecca Page Blog Tour! To see the Bralette Tank Pattern on the website, click HERE. For the Leggings Pattern, you can click HERE.
Happy Sewing!
This post contains affiliate links.