Follow or Share the Hobby Love!: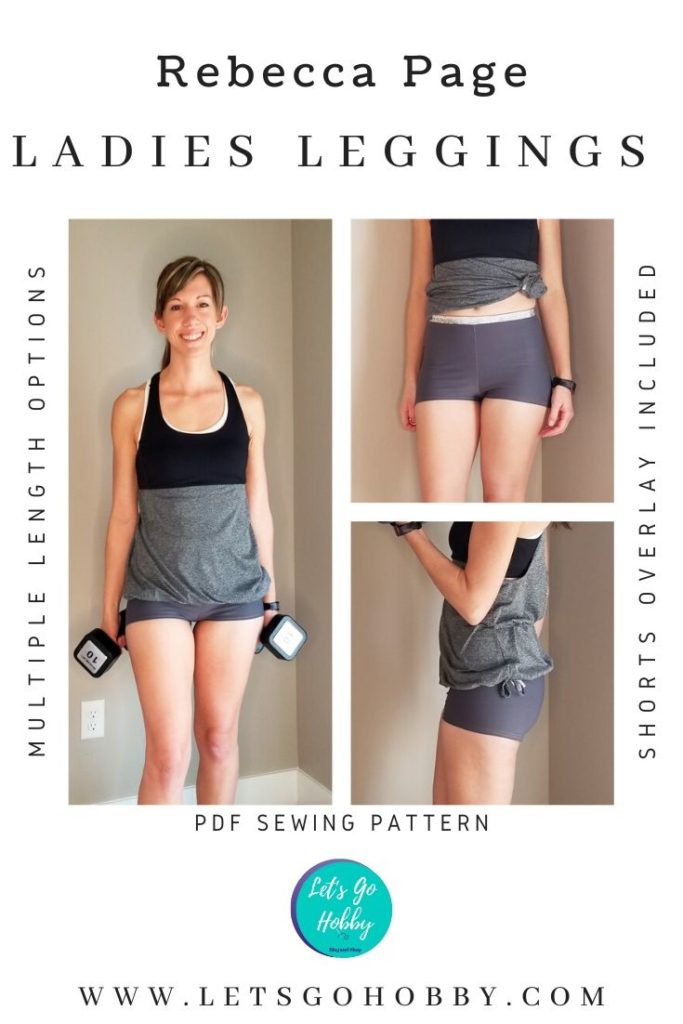 Leggings! These are the new Rebecca Page Ladies Leggings. There are so many PDF sewing patterns for leggings these days. So, what makes these unique?
What Makes These Leggings Unique?
To start, there are 4 defined lengths –
shorty shorts,
mid-thigh shorts,
capris, and
pants length.
These leggings also have an optional looser woven short overlay built in to the pattern. You've probably seen the shorts overlay style before, the leggings are underneath for coverage or warmth, and the shorts are attached to the same waist band on top.
Check out the listing, HERE, if you aren't sure what I mean!
I will say, the shortest length is meant to go under those woven shorts. So that makes this length super short! (As you can see in my pictures.)
I wanted to use less fabric on my first pair to make sure the fit was good. I plan to make another pair in a longer length, as the fit is nice!
The Waistband
The waistband is exposed elastic. You can choose any kind of elastic you like, which is kind of fun! I used a black/silver sparkly elastic for mine. You can also choose any elastic that is 1″ or wider for different looks and feels.
They make woven elastic, knitted elastic, underwear elastic, specific waistband elastic… (Protip: You can get big rolls of elastic super cheap on Amazon!)
The waistband is meant to sit higher than some other leggings I've made. It sits just below the natural waist. At first, I wasn't sure about how high these would sit. But, after wearing them, I love it because it stays put!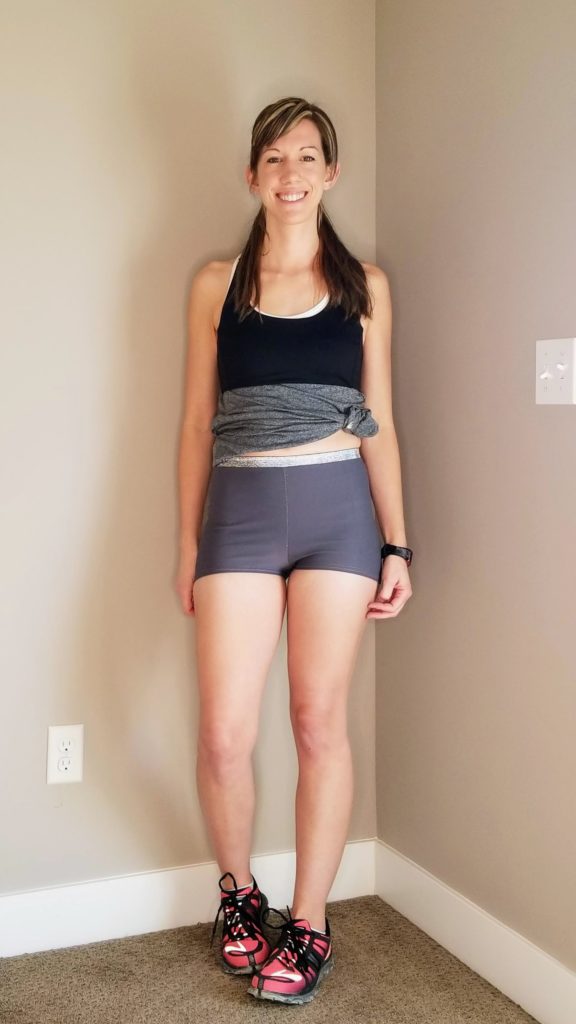 The Fabric
I used a supplex workout fabric from Joann Fabric Store for this pair. Good wicking fabric can be expensive, so you may need to shop around for the best prices. Sometimes Knitpop has good sales on yoga and athletic knits. Surge Fabric Shop is another good online store that comes to mind.
You really do want fabric that is meant for exercise if you plan to workout in these. Wearing DBP or Cotton Spandex would leave you feeling super hot and perhaps drenched!
Workout Tops
I wish I could say I made the workout top in the photos too as it's one of my favorites, but there are a few patterns that are similar to it (you can check out Greenstyle Creations or 5oo4 Patterns).
Rebecca Page has a few workout tops that are great too including the Bralette Tank with an optional phone pocket in the back that I need to make, as I do like Rebecca Page Patterns drafting!
You can see more pictures of the Rebecca Page Leggings and Sport Shorts Pattern HERE on the RP website if you are interested!
As always, leave your comments and questions below!
Happy Sewing!
This post contains affiliate links.