Follow or Share the Hobby Love!:
This is such a cute dress pattern. I wanted to make the Crimson Dress last year when it released, but just didn't have the time to sew it up then. If only there were an extra 3 hours in a day right?!
I did make the Clover Dress last year, which is the sister pattern to the Crimson Dress. I never blogged about it, but did post to my Instagram sewing profile HERE if you'd like to see that!
I'm so happy I had to a chance to make the Crimson now, and plan to wear it a ton as the weather warms this year!
Pattern Options
This pattern has some really fun options, but I even changed it up a bit more. The original pattern options are:
Sleeves – banded, short, 3/4 length, full length
Bodice Flounces – one flounce or two (a smaller and a larger one side by side)
Circle Skirt – lengths include peplum and knee length options.
Burrito Roll
So, instead of banding the sleeves, I actually used the Burrito Roll Method to bind the armscyes. If you are wondering what on earth the burrito method is, I made a quick tutorial about it for Instagram. I even show you using this actual dress pattern!
You can watch it below:
Skirt Switch
And lastly, the other change I made to the pattern was switching out the circle skirt for a gathered skirt. I actually wanted to use the circle skirt included in the pattern, but I didn't have enough of the skirt fabric I chose to make it happen.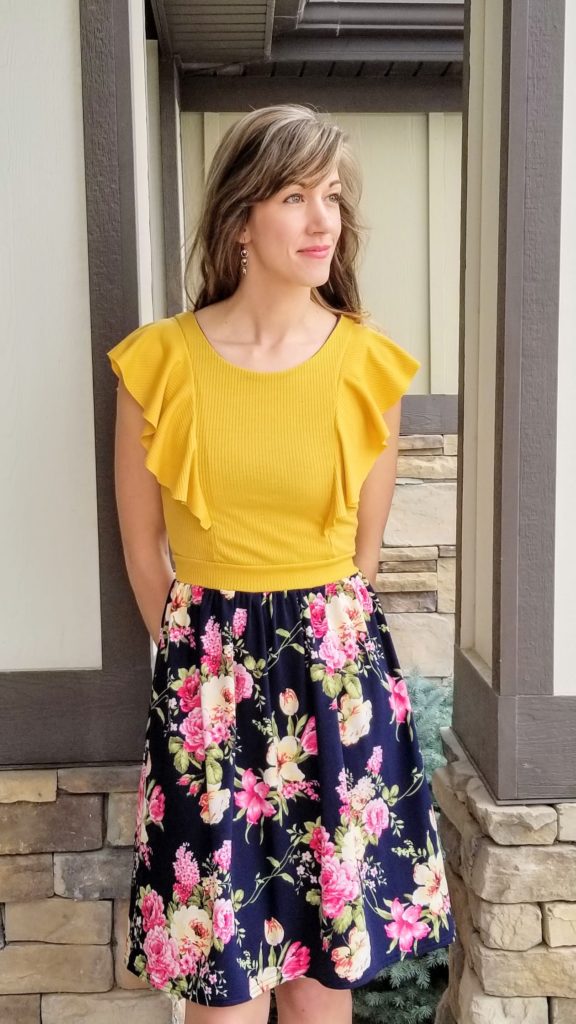 So, I instead used the skirt from the sister pattern (the Clover Dress) which worked out perfectly. I think you could use any gathered skirt from another pattern since you pull the gathers to fit the bodice anyway.
I actually cheated a little and cut the back normally, but actually cut the front of the skirt with the stretch going up and down instead of horizontally around the body (like we are supposed to right!?). For a loose skirt like this, it doesn't really matter which direction you cut the skirt panel. So, cheat if you need to!
Flounces
The pattern has two flounce pieces included. But I've seen many variations of this. I only used the small flounce for my bodice. Mostly because, that's all the yellow fabric I had left! I have seen contrasting flounces. Lace flounces. And even no flounces.
So, flounce how you like!
I lengthened the bodice but didn't remember to lengthen the flounces. Oops! So if you add or subtract length to your bodice, don't forget like me!
Fabric
For this dress I chose to use some coordinating fabrics I got out of a scrap pack from Knitpop (one of my favorite online fabric stores).
I thought I didn't like yellow on me after disliking a yellow shirt I got from JC Penney's many years ago. But lately, I've really liked the mustard yellow and yellow's with a lot of gray in them. Exampled by the Rival Dress and Toronto Tee I made last year!
Since I used smaller scrap pieces, I did have to do a bit of pattern tetris and cut some things differently. I ended up lining the bodice with a dark blue fabric of the same type as the yellow.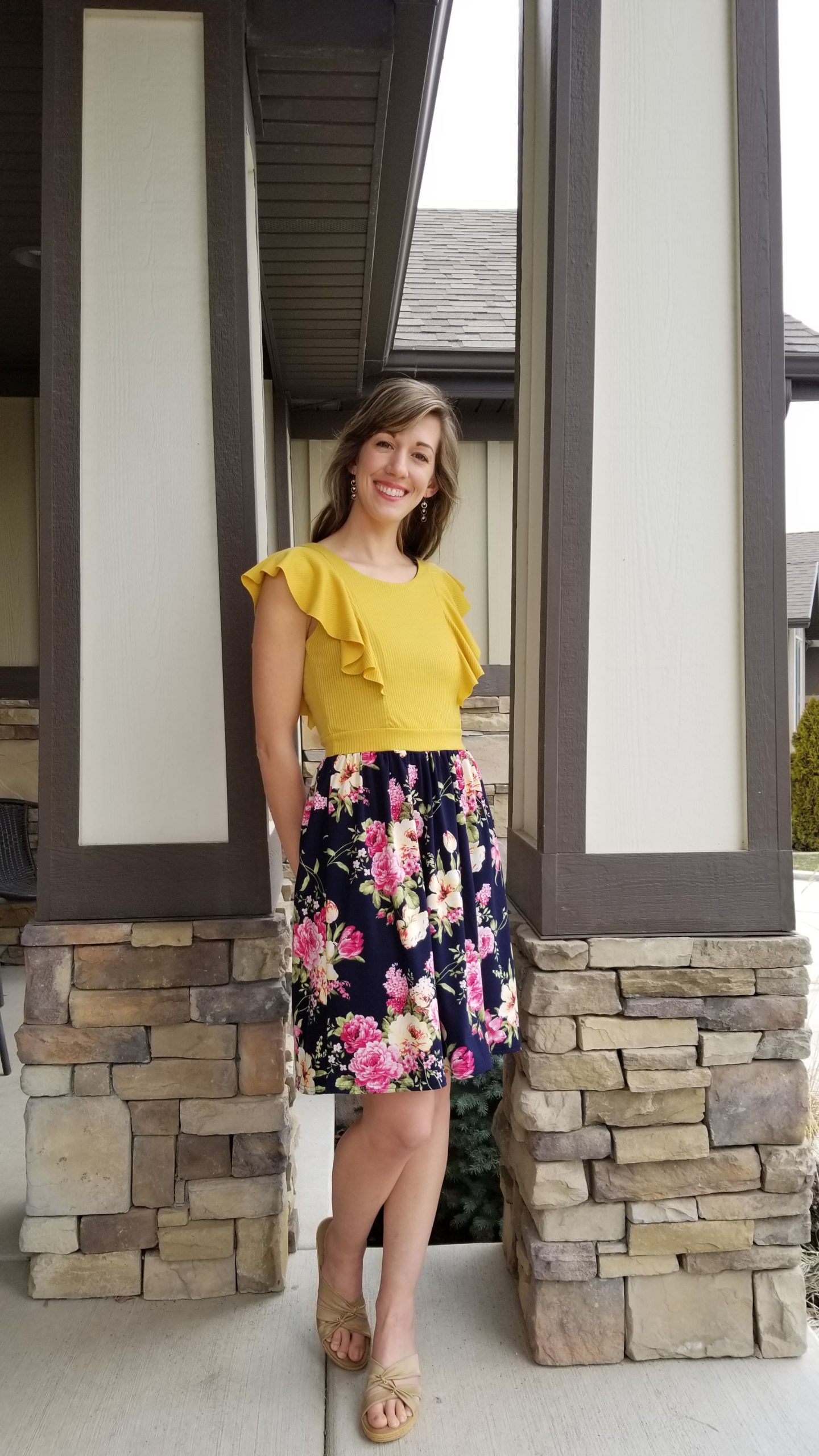 I'm not sure exactly what the blue and yellow fabric type is, but some kind of ribbed jersey mix with a small amount of spandex in it.
And the skirt fabric is Double Brushed Poly (DBP). DBP is a super soft fabric that's pretty affordable. It is known not to breathe well, so I would stay away from it for summer maxi skirts. But for a knee length dress like this, DBP works great!
Crimson Dress Pattern
If you want to see more pictures of the dress including all the tester photos in all the sizes, you can see the pattern listing HERE.
And the beauty of PDF patterns is that if you like it, you can download it immediately and start sewing this beauty up today if you like!
I hope you enjoyed this post. If so, let me know in the comments 🙂
Happy Sewing!
This post contains affiliate links.