Follow or Share the Hobby Love!:
I ordered fabric from Olga's Closet a little while back and decided to sew some cute and cozy pieces for my Winter wardrobe. I used patterns from Ellie and Mac Pattern and Patterns for Pirates which I'll go into more detail about below!
This post contains affiliate links which does not change the price of fabric or patterns for you, it just allows me to continue to buy the fabric and patterns and write about them for you!
Fabric Unboxing
Here's all the fabric I received (watch the video below to see!). I didn't sew everything I received yet, but I sewed most of the Mystery Fall/Winter Bundle fabrics!
What I Made with the Fabric
Firstly, I used a beautiful marbled and super soft sweater knit from the 8-10 Yard Fall/Winter Mystery Pack Bundle to make a warm cardigan.
P4P Cocoon Cardigan Pattern
I chose the Patterns for Pirates Cocoon Cardigan and made it extra cozy by cutting and sewing the long length with the tall band, long sleeves with cuffs, and POCKETS!
The Cocoon Cardigan Pattern is a relatively simple sewing pattern. I've made it four times now. If you choose all bands, there's no hemming needed which I appreciate for a quicker sew time.
It's seriously like wearing a soft warm blanket, but looks way cuter. The tall bands with the long length make the cardigan reach a mid thigh length. Perfect for cold days and also for leggings or jeggings to cover your backside.
Also, you know how some sweater knits can feel itchy, this is NOT one of those. Plus, it doesn't seem like a fabric that will pill easily after being washed (which is the worst, by the way, after spending time making your own lovely clothes). I already washed it once and it still looks perfect.
I appreciate that there was so much of this particular fabric all in one cut. I think it was around 3 to 4 yards of the marbled fabric (I didn't measure!).
The marbled sweater knit matches perfectly with the coordinating sweater knit that came in the Fall/Winter Bundle. You can see the slightly aubergine colored fabric that I used for the top underneath the cardi below.
Ellie and Mac Sweater Pattern
For the brown/purple colored sweater knit, I decided to use Ellie and Mac's Fall in Love Sweater Pattern. It's a classic sweater pattern with inset sleeves and is entirely hemmed with bands as well (seeing a theme?). I do have a coverstitch machine, but love staying on the serger and not switching threads quite a bit.
I did two small hacks on the Fall in Love Sweater Pattern.
Removed 2 inches from the hemline (and just attached the band where I had cut to)
Added an 1 inch to the sleeve cuffs to make them a bit longer and cozier
I think it turned out super cute. Since it's a solid fabric color and a classic pattern, I should be able to wear this one for years to come without worrying about it going out of style.
There was one other sweater knit in the Fall/Winter Fabric Bundle that coordinates with the marbled fabric. With that, I made a dress pattern.
Ellie and Mac Dress Pattern
For the next make, I used the Ellie and Mac Cuddle Tunic & Dress Pattern.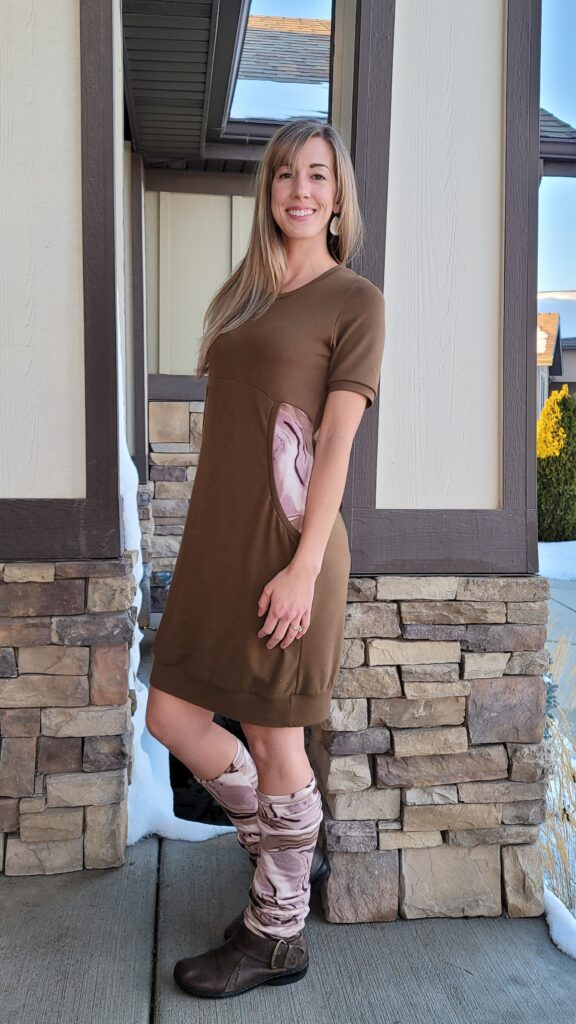 I've been wanting to try out this pattern for a while, so it seemed like the perfect time! The E&M Cuddle Tunic/Dress has a big pocket in the front. The entirety of the pocket is the marbled fabric and the rest of the dress is the coordinating light brown sweater knit fabric.
Since the pocket fabric is the same, I can throw on my Cocoon Cardigan and it totally coordinates.
I believe the original Cuddle Tunic & Dress Pattern has you hem the sleeves, but I just measured the sleeves and added a band that was about 85% of the width of the raw sleeve hem circumference.
Leg Warmers
You might have noticed the leg warmers in the photos above. It was my first try at leg warmers and I didn't have a pattern, just some guidance from a sewing friend.
I made them too wide and then took out some of the width, but I wish I had taken out more.
When they are tight enough, you can control where the scrunch happens, but since they are a bit loose, the fabric likes to slouch at the bottom of the warmer while the bands hold the top tight.
But, you know what? I still like them! They definitely kept my legs warm and they match.
If you want to make some of your own, I suggest measuring your calves and then making the width of the leg warmers smaller by a few inches so that they stay up where you want them. The length was about 30″ for each and then I added a band at 85% of the width of the leg warmers on both the top and bottom.
Seventies Meets Nineties Outfit
There was one more fabric in the Fall/Winter Bundle that I used to make this fun Winter capsule wardrobe. This fabric is a Double Brushed Polyester or DBP. DBP is great for lots of knit patterns as it generally has good 4-way stretch and is easy to work with.
I call the dress I made my Seventies Meets Nineties Dress. A 70s looking print with a 90s looking dress.
What do you think? Is that accurate? I paired the dress with some brown leggings and shoes that I may or may not have owned in high school (*grins!*).
Did I pattern match? No, not really. The lining actually matches better with the front of the skirt, but I made a mistake and put that part on the inside. But, I like how it turned out so fun and funky with the mismatched prints across the bodice, skirt, and sleeves. So much fun to wear!
The dress pattern is the Ellie and Mac I love the 90s Dress. This is the first time I've made it and I've already fallen in the love with the pattern.
The gathering is, well…gathering. Takes time, but it's worth it.
The rest of the dress is really easy. The bodice is lined and then it has slightly relaxed inset sleeves. The skirt hits above the knee. And there are pockets of course!
I think I need a few more of these dresses for summer in breezy fabrics.
That's all the sewing I have to share with you for today.
Where to Find the Fabrics and Patterns
Fabric
Olga's Closet 8-10 Yard Fall/Winter Mystery Knit Bundle
PDF Sewing Patterns
Patterns for Pirates Cocoon Cardigan
Ellie and Mac Cuddle Tunic & Dress Pattern
Ellie and Mac Fall in Love Sweater Pattern
Ellie and Mac I Love the 90s Dress Pattern
Come follow me on Instagram so I can meet you! I will be sewing up the rest of the fabric I received soon and will post those makes. I'd also love to see what fabrics you order, and what you sew with them as well!
~ Jessica