Follow or Share the Hobby Love!:
A sewing friend and I teamed up to try out free patterns together. Her name is Diana and she has a fabulous YouTube Channel. And of course, I blog!
So, we both made a set of 2 free patterns. I'll link her video at the end of this post.
George and Ginger is a PDF pattern company and they have a number of free sewing patterns. The latest is a top and skirt set called the "The Bad Rep Free Set PDF Sewing Pattern." It includes a cropped tank and and a tiered skirt. Here's the link to the set:
The Bad Rep Set (free patterns)
Table of Contents
The Top Pattern Basics
The crop top is designed for knit fabric with 2 or 4-way stretch with good recovery. I love that 2-way stretch knit fabrics work since I have quite a few pieces in my fabric stash. Sometimes it's hard to find a good pattern for 2-way stretch knits!
The top can also work for upcycling or refashioning. Grab an oversized graphic tee and lay the pattern right on top.
Here's the line drawing for the top:
The Skirt Pattern Basics
The skirt is designed for drapy liquid woven fabrics, but could work with lightweight knit fabrics too.
The skirt doesn't have any pieces that need to be printed or projected, its done using rectangles. Each size has the measurements for the tiers. You can make a mini, midi, or maxi skirt with the pattern.
DIY Outfit Reveal!
Overall I really like the pattern set. I think it's cute, I feel confident wearing it, and it's amazing for FREE Patterns! Read on to see the details and my thoughts.
Fabric Choices
For my crop top fabric, I chose a 2-way stretch jersey that has 2 fabrics somehow connected together. One side has the thin stripes, and the other has the thicker stripes. I used the thicker stripes for the bodice and the thin stripe side for the bands. I can't remember where I got this fabric.
For the skirt, I used a stretch woven. It has very little stretch. But it's light, flowy, and little bit shiny. It's from Surge Fabric Shop, here's the link if they still have it when you look – Navy Florence Stretch Woven. That's not sponsored, I just really like their fabrics!
Pattern Construction Details
The instructions are well done for both patterns. George and Ginger uses graphics with words next to it. I've always found the instructions for their patterns to be clear and concise.
Sewing the Crop Top
I'm going to be totally honest right here, I didn't take any pictures of me sewing the top! Oops. But, it was very simple to make. The front and back bodice are the same, and then there is just a neckband and two arm bands. I used my projector to cut it out.
I did add one inch to the length of the crop top. I have a long side waist (about 9 inches) and wanted to make sure the crop top only allowed a peak of belly to show. If you want it to completely cover your stomach, add more.
Sewing the Tiered Skirt
The skirt was not too difficult to sew.
The waistband is constructed by making a casing and inserting 1.5″ elastic. You sew around the top after folding it over, but leave a gap to insert the elastic.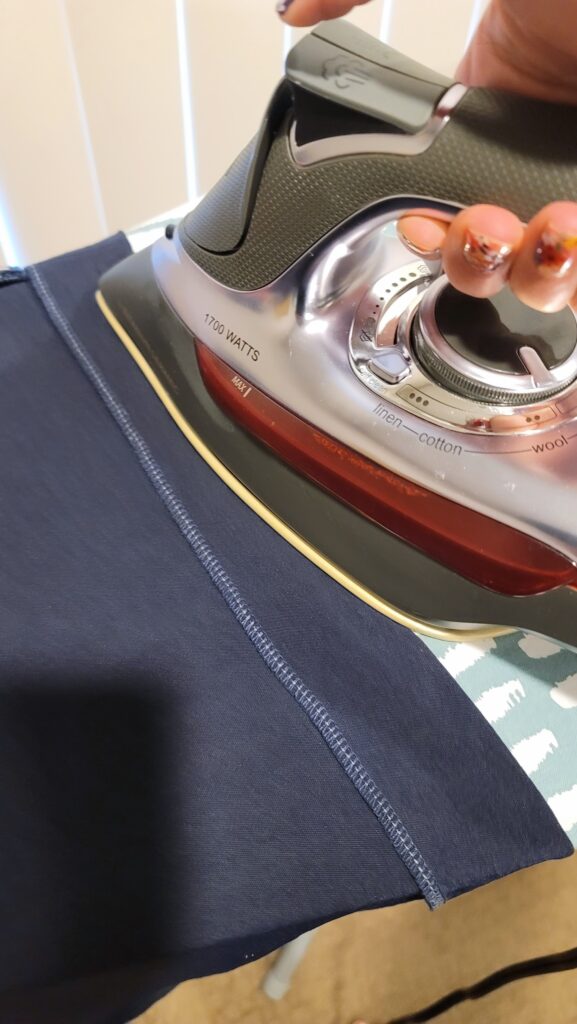 Sewing Tool Essential – Bodkin
If you don't have a bodkin, get one, they are totally worth the buy. Bodkins are like tweezers. The tweezer end is widely serrated for good gripping of the fabric, and there is a ring that slides up and holds the tweezers shut. It allows you to guide the elastic through a casing without coming undone and being frustrating like a safety pin is.
Even if the bodkin looses grip of the elastic inside the casing, it's easy to put back on without taking it all the way out. I was always so frustrated when safety pins opened inside a casing. This is so much better.
Inside the casing, I used a knit elastic. I've used this same elastic before and noticed that it likes to flip around. So on the side seams, I added a stitch down the seam. (Bummer that I ran out of navy blue thread!) But it's not noticeable when I'm wearing it.
Attaching the gathered tier took the most time. I wanted to make sure my gathers looked good. I gathered using a long basting stitch and just pulling the bobbin threads until it matched the tier hem above. I wish I had used clear elastic though. I've used that method recently and really enjoyed it.
Ironing Gathers Tip
Once you have your gathered tier attached, here's a tip on ironing:
Place your gathered seam allowance right at the edge of your ironing board and ONLY iron the seam allowance, not the gathers. You will iron the seam the opposite direction of your gathered fabric.
Final Thoughts
I really like this free sewing patterns set. It's totally in style and easy to make. If I make another set, I wouldn't make any changes to the skirt.
For the tank, I would lower the front neckline just a bit. My head fit through the hole, but it was a bit of a turtle through it's shell feel. I would also lengthen it an inch or so more so that I can raise my arms with less midriff showing.
Also, since the front and back bodice are the same, I felt the front armscye did not have enough coverage. Diana and I talked about this and she suggested that it might help to make the armbands a bit shorter. I think that would help as well.
The armscye does gape just a bit at the bottom. A different fabric choice with better recovery would help that issue too. But it's not a deal breaker.
Even with those minor issues, I've worn the outfit all day today and truly enjoyed it, so I'll probably make another one with those slight tweaks!
If you want to make your own George and Ginger Bad Rep Free Set, Here's the link –
Link to Free Clothing Patterns Set
See More and Video Sewing Tutorial
If you want to see this same set sewn up by my amazing sewing friend Diana, go check out her YouTube video which includes a full sewing tutorial on how to make these free patterns as well as her own review. Here's the link to her sewing tutorial –
If you'd like to communicate with me or follow along for more sewing inspiration, you can follow me on Instagram HERE or copy and paste – www.instagram.com/sewletsgohobby into your browser. You can also ask any questions in the comments.
Want to see more George and Ginger Patterns I've made? Click HERE to see them all.
Until next time, happy sewing!