Follow or Share the Hobby Love!:
Oversized Shirts
Are oversized shirts in style right now?
Oh yes! They definitely are. Large chunky or drapey tops are very fashionable. Tuck them in or leave them out. Band them. Make them long or make them short.
It's all in!
This particular PDF sewing pattern, the Ellie and Mac Oversized Tee, comes with all of that. Yup, lots and lots of options. Packed with them!
(Never sewn a PDF Sewing Pattern? Check out my Comprehensive Beginners Guide to PDF Patterns Post HERE!)
Check out the line drawing from the Ellie and Mac Pattern website: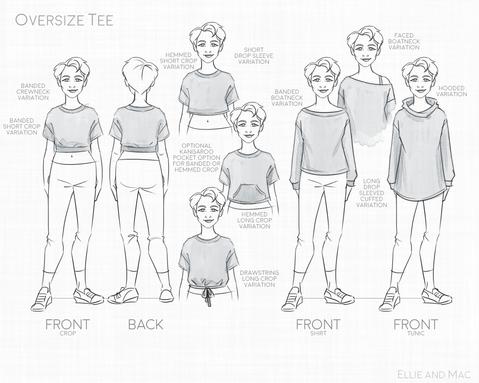 Oodles of Options
The EM Oversized Tee has sooo many options, check out all the items below! ⬇
Neckband Options:
Banded Crew Neck
Banded Boat Neck
Faced Boat Neck (off the shoulder)
Hoodie Variation
Sleeve Options
Short Drop Sleeve
Long Drop Sleeve, Cuffed
Bodice Options
Banded Short Crop
Hemmed Short Crop
Hemmed Long Crop
Drawstrings Long Crop
Hemmed Shirt Length
Hemmed Tunic Length
Pocket Option
Optional kangaroo pocket for banded or hemmed crop
Oof! That was a long list right? Seriously a good deal. I love patterns that give you so much for the price.
The Oversized Tee Pattern comes in sizes XXS – 7XL. It has Letter, A4, A0 and projector versions included, as well as layers, so you can just print (or project!) the size(s) you want (easier to cut with less lines and saves ink!).
My Oversized Tee Sew
I'm a bit late on posting this sew as it's been a few months since a made it, oops! Life got busy. But, interestingly enough, I just realized I'm wearing the exact shirt you see in my pictures. It still looks great and I wear it often!
This is my "pretending I'm a model" pose 😉.
Fabric
The instructions for the Oversized Tee states to use 50% 4-way stretch fabric. I used a polyester rib knit I ordered from Knitpop Fabrics a while back. I really like Knitpop Fabric Shop because they have great sales and I always get what I expected when I receive the fabric order!
I wanted to make sure the fabric I used had enough drape so that it still looked flattering even though it's a wider fit. I think I achieved that with this polyester rib knit fabric choice!
Pattern Options I Chose
Out of all the options listed above for the Oversized Tee Pattern, I chose:
Banded Crew Neck
Long Drop Sleeve, Cuffed
Hemmed Shirt Length
No Pocket
My Thoughts
I love it! It's a super cute PDF sewing pattern and I love how my make turned out. I wear this shirt often and always feel stylish and on trend wearing it!
Next time I make this sewing pattern, I'd like to make the cropped version and do a neckband hack for a different look. I've noticed that it's popular to have a thicker neckband these days with the style trends, so I want to thicken up the neckband.
This will change the width needed for the neckband too (by width I mean across the stretch of the band, so it would be the longer side of the band piece). The band will need to be shorter across the width of the fabric so it doesn't stick up and out after being sewn in! Stay tuned for that pattern hack in the future!
Where you can find the pattern:
You can find this cute PDF sewing pattern on the Ellie and Mac Pattern website HERE!
If you are also interested, there's a kids version of this pattern! You can see the kids version of the PDF sewing pattern HERE.
Other Ellie and Mac Patterns
I've written about lots of Ellie and Mac PDF Sewing Patterns in the past! You can see all the Ellie and Mac posts on the Let's Go Hobby Blog HERE.
And also check out my posts for the official Ellie and Mac blog on their website, by clicking any of the following links:
Happy Sewing!
There are affiliate links in this post. The links add no extra cost to you! If you choose to use them, I will receive a small percentage of the profits which helps me bring more awesome posts to you!