Follow or Share the Hobby Love!:
George and Ginger has been updating all the patterns to expand the sizing and update the bodices to the newest changes. The pattern now includes sizes from tween to 5x.  I made the Drama Dress previously with the old pattern, you can see that post HERE. I made it for winter, so it had long sleeves, the slimmer skirt, and the keyhole front. Since the designer/owner of George and Ginger had a Facebook-wide pattern test for this one, I opted in and made the newest version for a fun and comfortable Summer dress.
I made this version with the basic neckline on front and back, banded arms, full circle skirt, and pockets. The blue fabric is Modal, which is awesome by the way. This is the first time I've used modal. It's similar to rayon spandex, but slightly thicker, has better recovery, and doesn't pill like rayon. The white bands are DBP. I love that it looks slightly sporty with the contrasting bands so that I can wear flats with it. I'm a mom of three young boys, I need comfort!
This post contains affiliate links.
The pattern fits like a glove. I usually need to grade out from bust to hips, but since there is a lot of ease in the circle skirt, I just made the same size from the top to bottom.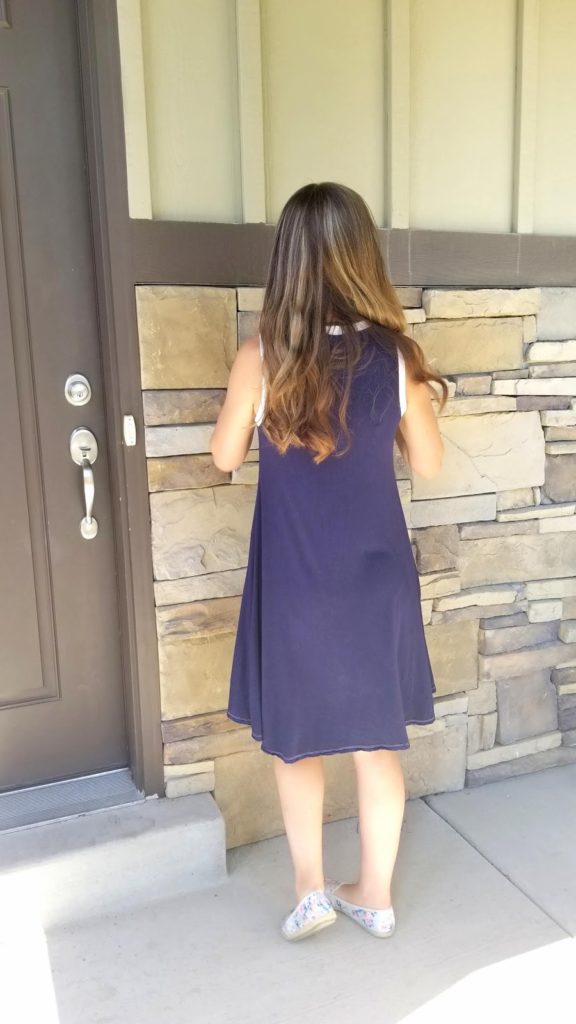 I didn't add any length to the dress (I'm 5'5″), but since the fabric has quite a bit of vertical stretch, plus the weight of the circle skirt, it became a bit longer, which I don't mind.
The picture above is a bit bright, but it shows the curves of the dress well. The pattern is slim through the waist and then flares out so that you don't lose your waist in the fabric, great drafting!
You can see the pattern on the George and Ginger website HERE. It's fun seeing all the different options of the dress in the tester photos.
Comments, questions, leave them below!

Happy Sewing!