Follow or Share the Hobby Love!:
A lot of firsts for me on this sew!
Firsts!
First woven skirt,
first time adding a zipper to a garment (I actually only sewed in one zipper prior, and it was for a pencil case in junior high!),
first time sewing darts,
first wrap skirt,
and first time testing for Designer Stitch Patterns!
But, I did it! Here's my Allie Wrap Skirt:
5 Wrap Skirt Overlay Options
This pattern has four different faux wrap overlay options. I chose to make the asymmetric hemline with button option. There are also options for a large grommet overlay, a tie overlay, and a small laced grommet.
Firstly, I want to say that I am really impressed with the drafting from this designer as well as the awesome knowledgeable feedback during the test.
We were asked to make a muslin first and I'm glad I did, since I somehow ended up the top of the skirt being 3 inches too big! The designer took one look at my fit pic shown below and said, that's sitting way too low. What's your waist measurement…
How did I make such a big error!  After measuring everything from the pattern itself including darts, seam allowances, etc. and adding it all up, I realized that I had sewed the darts slightly too small, but also I had also cut the front too long.
It matters so much more with woven garments. I had cut the correct pattern size, but from there made those mistakes.  I made all the fixes to my muslin, and then was extremely careful when cutting out the actual skirt.
Fabric Choice
I got this skirt fabric from Walmart for 1.50/yd. It's a lightweight sueded fabric. After cutting out the button front option, I realized that one of the swooping  wrap skirt overly options probably would have worked better for this fabric.
But, I pressed the bajeezers out of it with my iron on high steam, and everything lays nice and flat now.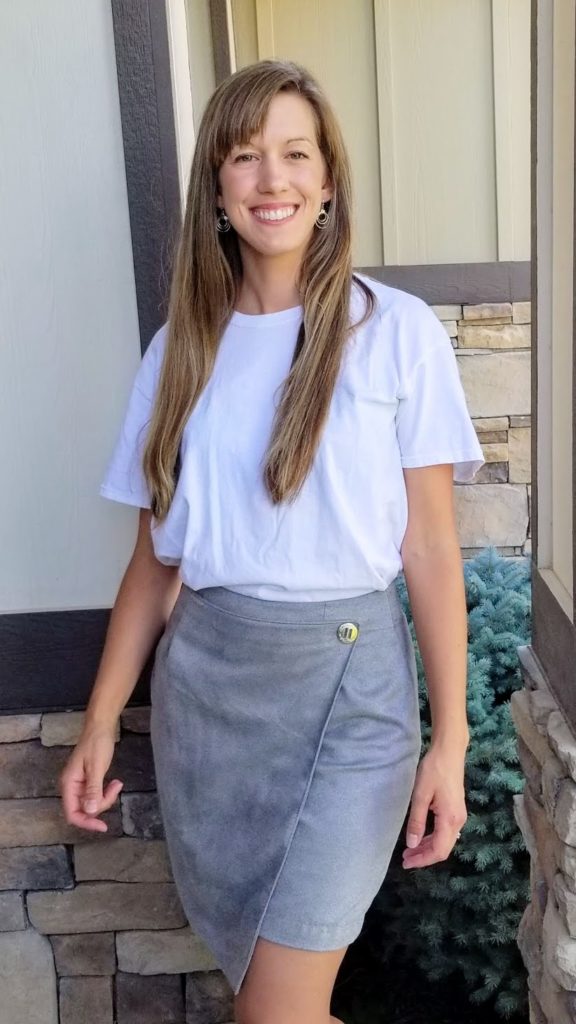 Styled 2 Ways
I chose to style the outfits for pics two ways. One in a more formal, business casual type outfit. And the other casual with a plain white tee and flats.
I wish I worked somewhere where I could wear it that fun buisness-y way! For now, I'm a SAHM, so casual will be the way I go. But how fun is this skirt all dressed up!!
Anyway, check out the rest of the Allie Wrap Skirt overlay styles on the website
HERE
.
I plan on making a jean skirt with this pattern next. Want to see more of my sews? You can also check out my sewing profile on instagram
Happy Sewing!
This post contains affiliate links.