Follow or Share the Hobby Love!:
I just love that George and Ginger puts out these unique patterns that are so fun. Have you ever seen a pattern like this? This is the G+G Slash Tunic which is a PDF Sewing Pattern.
Pattern Options
The Slash Tunic comes in 3 lengths –
Sleeve lengths are:
There are 2 slits in the front of this pattern. The slit height options are:
My Make
I sewed up the mid length which comes down to just above the knees. The tunic length is about mid thigh, and long length swirls around the calves.
For the sleeves, I chose to make the 3/4 length since I used a 2-way stretch sweater knit, and it is warm! So this is a top that I wear in colder weather only.
There are two slit heights to this pattern. The top slit height is the "daring" height, meaning it shows a bit more skin. I actually did the lower slit, but with no vertical stretch to the fabric and a long torso, I achieved daring anyway!
Do keep this in mind if you are taller or shorter than the drafted pattern height (5'6″), or your slit may not come up where you want it to :).
Fabric
I picked up sweater knit at a super bargain price of $1/yd in a Wal-Mart bundle. I actually bought two of the same bundles because I liked the fabric so much!
A unexpected but great bonus to using a 2-way stretch knit instead of a 4-way stretch knit for this particular pattern, is that sewing down the front along the slits can be done with a regular straight stitch!
If you use a fabric with four way stretch, be sure to use a cover stitch or stretch stitch on your sewing machine when top stitching down the front center seams.
I really need some new boots. So, just ignore my clunky feet!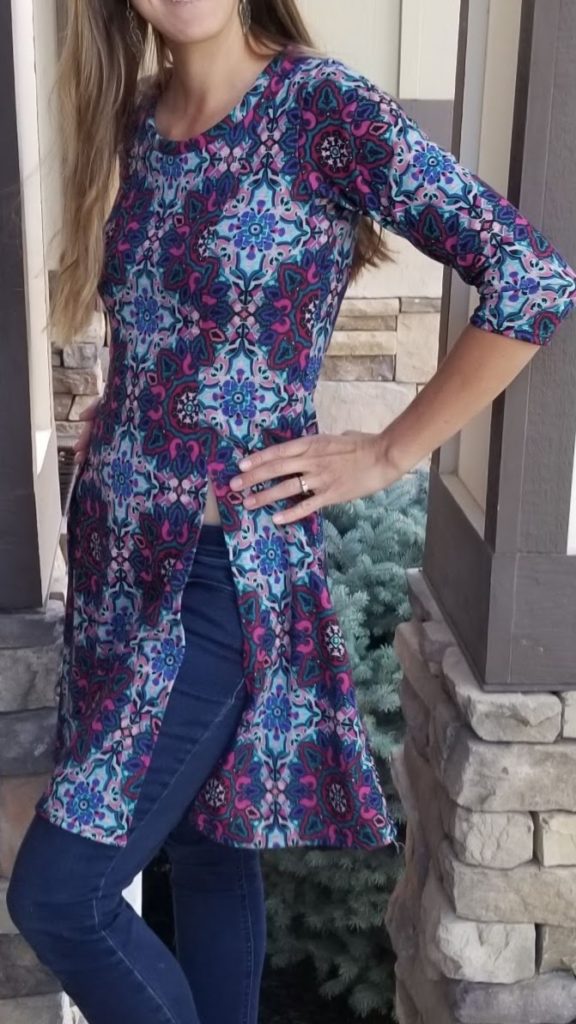 Neckband
I wanted to make a note about the neckband. Since this is a sweater knit with less stretch than say rayon spandex or dbp, I cut the neckband about an inch longer than the pattern suggested, and it came out much better than if I had left it at the suggested length.
In other words, be aware of the fabric types you are using. As home sewists, we don't have the luxury of someone else picking and testing the fabrics before we sew them! And we usually don't make 5 versions of the same pattern with the same fabric to ensure the correct band lengths and the sort.
So, make sure you know how much stretch your fabrics have, and the stability your fabric has as well. Some of this knowledge will come with experience and time!
Here's the back. No slits back there. With leggings especially, this would look like a dress from the back. A dress in the back, and party in the front!
I've also worn this top with jean shorts on a 50ish degree F day and that look is really cute too!
Kid Approved
By the way, this is kid approved! No really, check it out! 😉
And actually, my sweet 4 year olds took these pictures of the Slash Tunic for you!
Sewing Pattern Location
You can find the George and Ginger Slash Tunic on the G+G website HERE. Be sure to check out all the other amazing sewists tester photos. There are some really cute makes there!
Happy Sewing!
This post contains affiliate links.