Follow or Share the Hobby Love!:
Wrap style tops are super popular right now. The Ellie and Mac Miami Wrap Top has a criss-cross front that is fun and flirty and the tie is so cute. I actually made a few modifications to mine. The original pattern is lined, but in the interest of saving fabric, I hemmed all the way around it instead and left the sleeves off. Lining it does give it a more professional look on the inside though. If you don't have a coverstitch and still want to keep it unlined, you could cut a band for around the neckline instead.
This pattern has some other fun options too. It can be a crop top or a peplum style like what I made. It also has 4 different sleeve options including regular sleeves, flutter sleeves, double flounce sleeves, and triple layered peasant style sleeves. I guess it's 5 styles if you include leaving the sleeves off as I did!
I used rayon spandex I picked up from Girl Charlee (an online fabric store). I only had a yard of it and managed to make the whole top from that yard, so exciting when the pattern pieces fit!
The peplum portion is slightly gathered and attached to the bottom half of the top with the seam at the natural waist. Be sure to adjust for your natural waist length if needed (I added one inch for mine).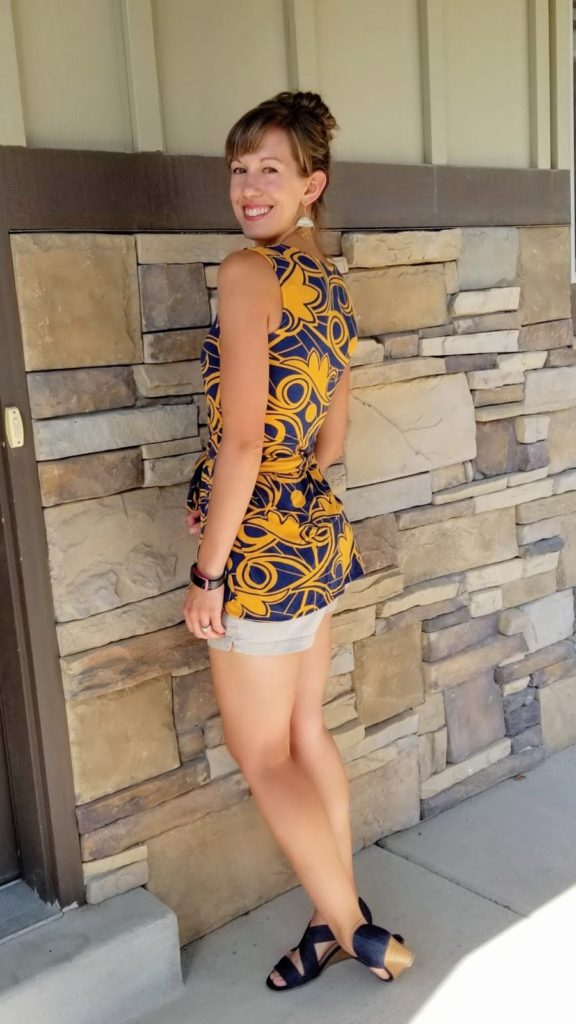 The pattern happens to be on sale today (7/17/19) for only a dollar on the Ellie and Mac Wacky Wednesday sale. You can see the Miami Wrap Top on the site HERE. Have fun if you decide to sew it up!
Happy Sewing!
This post contains affiliate links.