Follow or Share the Hobby Love!:
This is the Patterns for Pirates, Pirate Pencil Skirt Pattern. It's a FREE sewing pattern!
Don't you just love free?
Patterns for Pirates
Patterns for Pirates Patterns (or P4P for short) has a bunch of fun freebies. You can see the rest of their free sewing patterns by clicking HERE. The drafting is pretty good, and the patterns are mostly on the basic side with awesome instructions. Great for beginners.
PDF Patterns
P4P is actually where I started with PDF Patterns. A friend of mine had a make a shirt sewing party. It was so fun. And kind of crazy since we all brought our young kids with us and there were probably 18 kids wreaking havoc on her house as we looked after them while cutting and sewing!
We made the Slim Fit Raglan shirt (known as the SFR in the P4P Facebook group). It was the first shirt I made and actually turned out pretty well for my first!
By the way, if you aren't familiar with PDF patterns, you can check out my PDF 101 post HERE which is a comprehensive step-by-step beginners guide to PDF patterns!
Free Pencil Skirt Pattern Options
The Pirate Pencil Skirt has a few options. Firstly the sizes available are womens XXS through 3XL. So, a pretty good size range (especially for a free sewing pattern).
The rise options are:
And length options are:
Above the knee
Below the knee
Midi (mid calf)
Fabric to Use
I made this skirt from some leftover sweater knit I had (Joann's fabric). I had previously made the P4P Cocoon Cardigan with the same fabric cut.
Loose sweater knit fabric like this has a tendency to fray, so be sure to finish all raw edges as if it's woven fabric if you make one like this. I actually double serged the seams so the fibers would stay in place.
My Skirt
I chose to make the waist at the mid rise option for this particular skirt. The high rise would be really cute too. Especially if you wanted to tuck a tighter top into the skirt.
The skirt length is shorter than the pattern intended. I just didn't have enough fabric to make it as long as even the above knee length, so I made it as long as I had fabric for. But, I actually really like this length!
The pattern uses a knit waistband (you can also use the contoured waistband from the free leggings pattern (Pegs Leggings)). Since the fabric I used didn't have a lot of stretch or recovery, I cut a waistband at the same width as the skirt and made a casing for 2 inch elastic instead. I cut the elastic at the same length as the waistband length noted in the pattern.
For the hem, I folded the fabric over twice at 1/2 inch and then sewed 1/8 from the top edge. You could do a one fold hem if your fabric doesn't fray.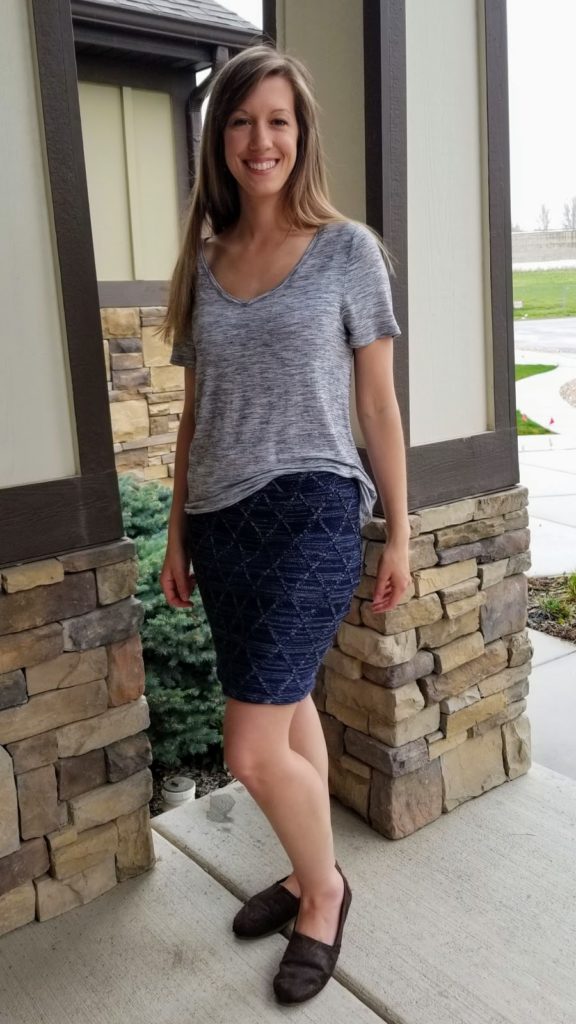 How to Style
Make it fancy with a nice shirt and heels, or dress it down with flats. I made it casual with brown flats and a loose knit t-shirt for the pictures.
But, it's also really cute with a black fluttery tank black heels. Another way I've worn the skirt is with the same grey shirt, plus brown leggings and boots in the winter!
Free Sewing Pattern Location
If you are interested in downloading the free pattern, you can find it HERE on the Patterns for Pirates website. Enjoy!
Questions or Comments? Leave them below

!

Happy Sewing!