Follow or Share the Hobby Love!:
This is the coolest pattern ever, seriously, you really get your money's worth. The
Mix It Up Dress
has 5 bodices fronts, 5 bodice backs, 5 sleeve lengths, and 5 different skirt styles. Any of the front bodices can be combined with any back bodice and any skirt style can be attached at the bodice. All the bodices are designed to hit at the natural waist (where you bend). With this many options, you could literally make hundreds of different combinations.
This post contains affiliate links.
Ok so here are the options broken down.
Front Bodice Options:
Back Bodice Options:
Skirt options:
Peplum: full circle skirt, half circle skirt, handkerchief skirt
Mini:full circle skirt, half circle skirt, handkerchief skirt

Dress: full circle skirt, half circle skirt, handkerchief skirt

Fitted Skirt:with optional short or long hi-lo peplum or peplum from above
The dress I made has the asymmetric front, diamond back, fitted skirt, with a long hi-lo peplum. A mouthful right? But I think it turned out so cute. The fabric is a heavy black four way stretch Ponte. It's fancy, so I guess it will be my party dress!
Some of the bodice options are considered modest and some are not. The leaf, keyhole, and yoke front bodices show a bit of skin (especially if you're busty). The back bodice styles yoke and keyhole will show the back of a regular bra. But the awesome part is, you can choose whether you want to show skin or not!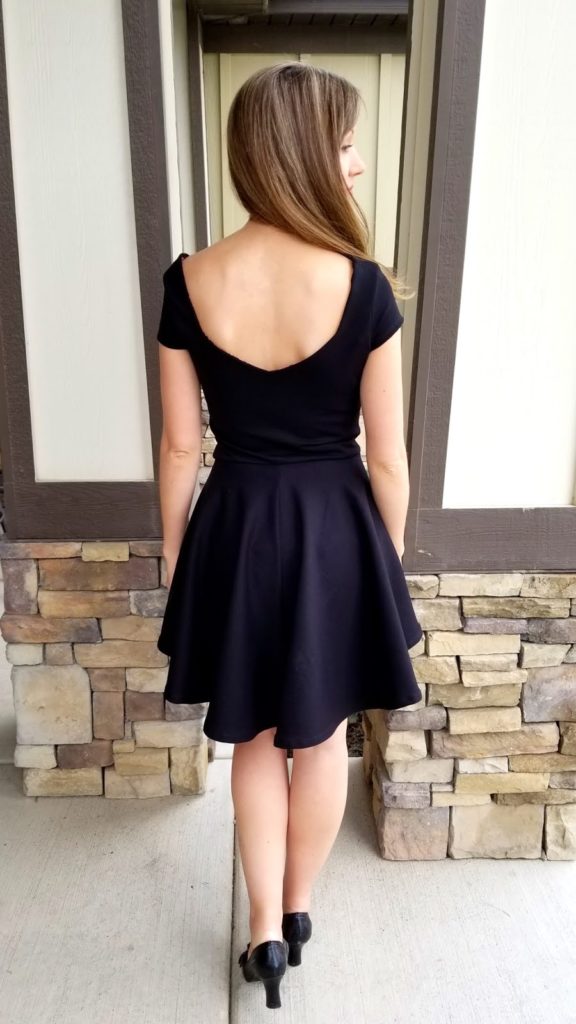 On all bodice styles, be sure to follow the pattern instructions on how to sew the main bodice to the lining so that the curves and corners come out looking nice. (She suggests sewing with a sewing machine with a stretch stitch and clipping corners and notching curves). I used a walking foot for the first time while sewing around the neckline and under-stitching it. Worked out great.
I did add a titch too much extra length on my bodice. I usually need to lengthen the bodice portion since I have a long side waist (10″). I think George and Ginger drafts for an 8.5 inch side waist. I added 2 inches to this bodice. The extra half an inch plus the weight of two skirts, did cause a bit of bunching at the very bottom of the bodice. I may end up serging around the waist line to bring it up the extra amount if it bugs me.
You can make the dress as casual or fancy as you want it to be depending on the fabric and styles you choose.
Here's another that I made: Horseshoe front, diamond back, half circle peplum. I used the burrito roll method for the sleeveless part. The pattern also includes a binding if you want to do sleeveless that way. I only added 1.5 inches to the bodice this time and the length turned out perfect!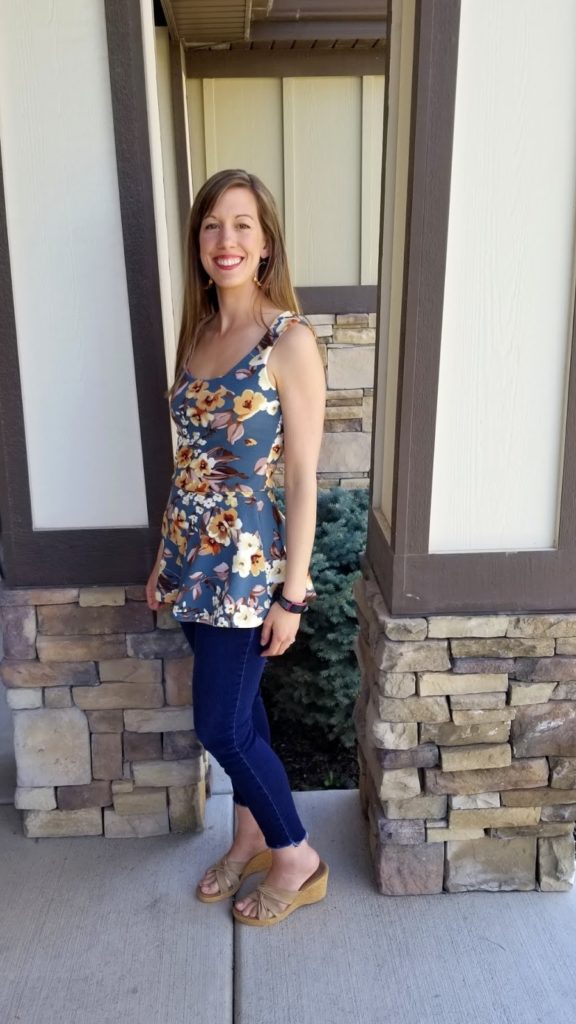 S
ee the pattern plus all the other tester photos
HERE
. The pattern is very well priced. Seriously a steal for so many options in one pattern.
Leave your comments and questions below!
Happy Sewing.