Follow or Share the Hobby Love!: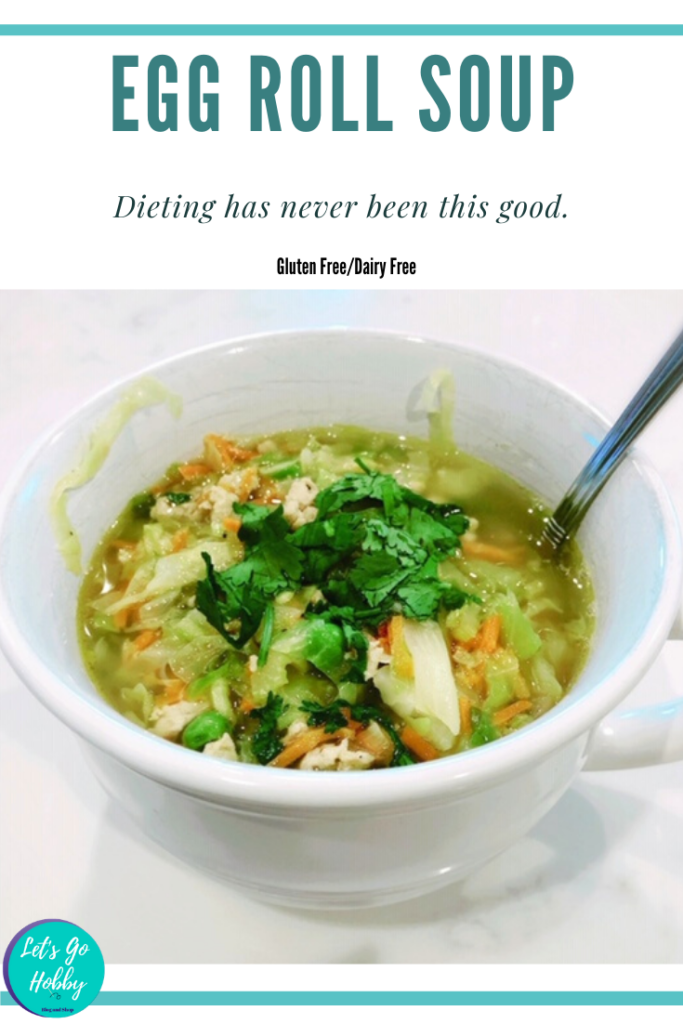 This post is super exciting for me because it's a first:
A Guest post!!
This post and soup recipe comes from my good friend who is also an amazing cook. We've lived right next door to each other for over 6 years. For the first few years as neighbors, we just came and went and didn't know each other. She had kids and I didn't, so we were in different places in our lives.
After I had my twins, I started to bring them outside to play, and that's when Vanessa and I realized that we had a lot in common. From food to health and wellness to sewing and even a little gardening, we had so many of the same interests!
So, without further ado, here's Vanessa:
I am so excited to do a post for Let Go Hobby! Having Jess as my neighbor is like winning the house lottery. She got me into sewing, inspires me to be a better gardener, and both of us live outside all summer with our kids.
When we're not working shovels, chasing our high energy kids together, practicing yoga after the kids are in bed, or talking non-stop about fabric and patterns, we talk food. If I remember correctly, our love of cooking brought us together.
I was asked to share my egg roll soup recipe. I love soup recipes, nothing comes closer to a hug in food than soup. Having celiac disease, gluten free Chinese food is only found at home. Restaurant egg rolls and egg drop soup are definitely the foods I miss the most.
So, this recipe is a combination of the two. Though it started as a gluten free option, it's enjoyable for everyone. It's made with: lean ground turkey, beef gelatin (found on Amazon for $10) and chicken base which gives the soup a smooth texture that tastes like it took hours to make plus it's loaded with veggies. I also will give a list of add-ins for endless variety and to accommodate everyone's taste.
Per serving, this soup comes in at: 208 calories, 17.2g of carbs, 6.8g of fat, and a whopping 23.6g of protein. I make this soup whenever I need a lunch reset. It's great for dinners, but having a warm healthy meal waiting for me on a cold day is great.
This recipe is made opposite of how soups are traditionally made. I like to sauté each ingredient before building the broth; that way every vegetable shines, and the broth has a smooth taste.
I also tried to keep the ingredient list short and the items easy to find. This one pot meal might become your favorite faux take-out healthy cheat!
Print Recipe
Egg Roll Soup
A hearty low calorie gf/df soup
Ingredients
1

lb

Lean Ground Turkey

1/4

tsp

Ground Ginger

1/4

tsp

Garlic Powder

1

med

Onion

diced

1

tsp

Oil

(I use avocado, but any light flavor oil will do)

10

oz

Bag of Shredded Carrots

(or 3 large carrots shredded)

3

stocks

Celery

diced

1

large head

Green Cabbage

shredded

1/2

Cup

Gelatin

(you can omit this ingredient, I love adding collagen or gelatin for extra protein)

3

Tbsp

Chicken Base

(you can use chicken broth instead of water and base. I like the flavor of chicken base more)

2

Tbsp

Soy Sauce or Coconut Aminos

Salt and Pepper
Instructions
Add turkey, ginger, garlic powder, ½ tsp salt, and ¼ tsp ground pepper in large soup pot on medium high heat. Brown turkey until cooked through. Remove the cooked turkey and set aside.

Add oil and onion and sauté onion until clear. Then add carrots, celery, and ¼ tsp of both salt and pepper. Continue to sauté until brown. Remove veggies from pot and set aside.

Add cabbage and an additional ¼ tsp of both salt and pepper to pot. Sauté until brown pieces appear.

Add turkey and vegetables back to the pot with the cooked cabbage. Add water until everything is covered by two inches.

Add gelatin and stir until combined.

Add chicken base and soy sauce (or cocounut aminos). Bring to a boil then remove from heat.

Taste and add more salt, pepper, soy sauce, and ginger to taste.
Notes
Great add-ins are:
A few drops of Sesame seed oil
Cilantro
Chili garlic paste
Frozen peas
Soft boiled egg
Sriracha
Red pepper flakes
Use your imagination for tons of yummy taste combinations.
Thanks for your time!
–Vanessa
Jessica here! I hope you enjoyed this guest post and recipe. If you make the recipe, be sure to come back and tell me in the comments how you liked it!
If you are looking for more soup recipes, you can check out my quick blender tomato soup recipe HERE.
Happy Cooking!