Follow or Share the Hobby Love!:
I've always wanted to have a duster cardigan. Every time I saw someone sporting a midi or full length cardi out and about. I loved the look! So when I saw that the RP Keeley Cardigan sewing pattern had a midi option, I was all about it!
It's winter right now and since making this cardigan, I wear it a lot. It's so comfortable, warm, and stylish.
Confession
Now, time for a true confession – I wear my bathrobe around the house when I'm cold. Yup, just any old time of the day. If the doorbell rings, I have to throw my bathrobe off to answer the door – not to look like I'm still in my pajamas in the afternoon!
As you can tell, this baby was much needed. It's so warm. Cute to layer under a jacket with leggings! And your backside still stays warm and covered.
My Cardigan
I didn't make any alterations to the fit on this pattern. I just made the size that fits my arms and upper body since I didn't want to add buttons on this make. If I were planning on being able to button the cardigan all the way down, I would grade out for my hips since I'm a pear shape.
Gaping fabric between the buttons is a real bummer. And when making you own clothes, you get to actually make clothes that fit!
The sleeves are set in, but with the loose sweater knit I used, it gives it a drop sleeve look. If you were to use a more stable knit, the armscye would sit right up where it's supposed to.
Options
The sewing pattern has options other than the way I made it:
a shorter length,
buttons down the front,
and side vents.
This means you can make this cardigan sewing pattern a few times with very different looks each time!
Fabric
The fabric is sweater knit that I scored from Walmart at a buck a yard. What a steal right? This longer version does take about 2 yards or so depending on your height and size, but so worth it.
I've gotten a ton of complements while wearing it. It can glam up a simple outfit quickly.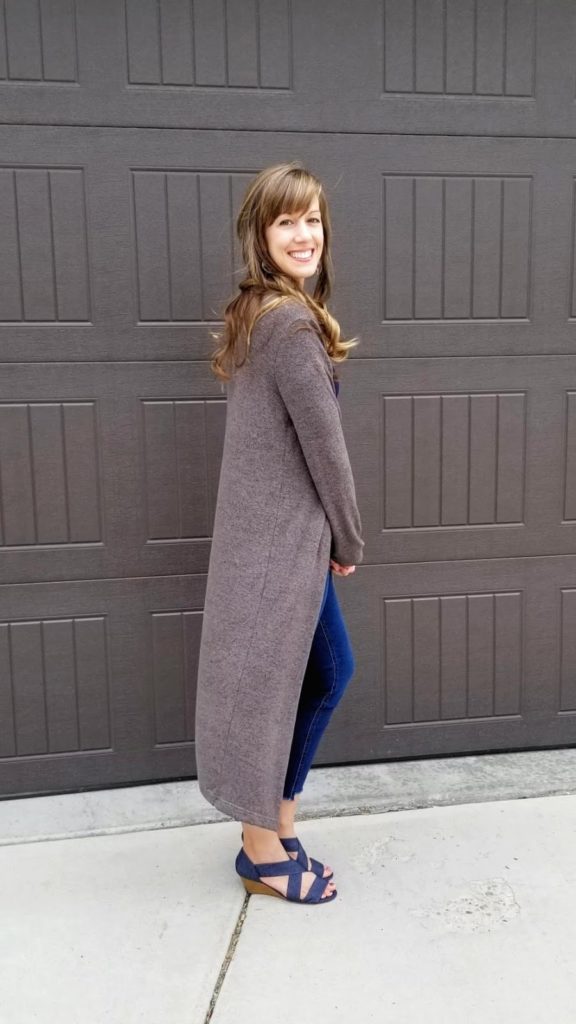 The pattern is located HERE on the Rebecca Page website if you are interested in seeing it there!
I would love to hear your thoughts in the comments.
Happy Sewing!!
This post contains affiliate links.