Follow or Share the Hobby Love!:
True confession: I already had 3 bathrobes. Did I really need another one? Well, I had two warm soft plush fleece robes which are awesome for winter, but not so much when it gets warmer. I had one I made out of quilting cotton about 6 years ago. It's adequate, but not fancy. I figured I probably needed a soft fancy robe that would work well for the summer. My boys are getting older, and I'll need to be covered up while I do my make up and hair too. So, the Rebecca Page Relaxation Robe was perfect!
This post contains affiliate links.
I made this one out of woven fabric I bought years ago before I even knew the difference between woven and knit fabrics. I literally had no idea what I was buying! But it was on sale on fabricmart.com in a pre-cut deal, so I bought it. I thought it would make a good dress, but it was a little see through in the white parts. But it's well suited for a robe! And perfect to go sit on my porch and drink coffee on summer mornings before the kids wake up.
The robe is unisex, so you can buy just one pattern to sew for lots of sizes. It will just be more or less feminine depending on your fabric choice. It can be made in woven or knit since it's loose fitting. The sleeves are a drop shoulder, but still inset. I love the details. There are pockets, robe tie loops, and even a hanging loop. It's loose fitting, but it doesn't fall off my shoulders when I wear it open.

Had to get a shot of the back!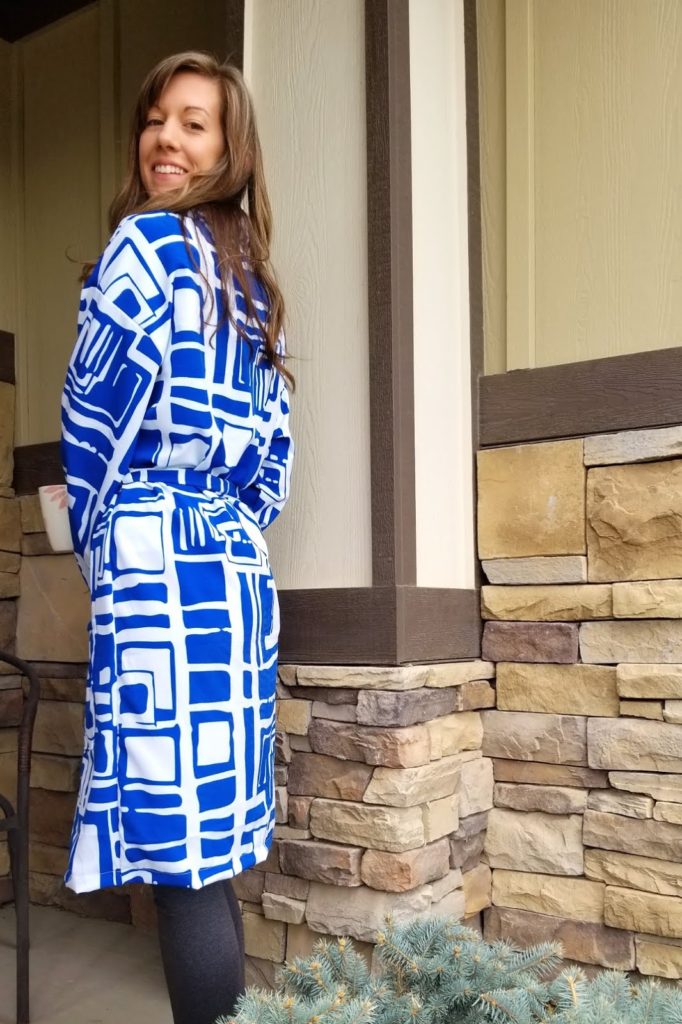 I attached the pockets a bit lower than recommended. Okay, it was an accident. But they look so perfect otherwise, I couldn't bear to redo them!
Go make yourself one!
Oh, there's also I kids pattern if you want to make it for the children in your life.
HERE is the link to PDF Pattern.
Let me know if you have any comments or questions below

!
Happy Sewing!